Do you have a wet basement that you're unable to use or enjoy?
Does your basement have a musty smell or mold issues?
Superior Basement Water Control & Remodeling can help! Let us assess your situation;
our water damage restoration & waterproofing services will
keep your home or business water and mold-free.
Water Damage Restoration & Waterproofing Services
If you have a wet basement, you are unable to use a large part of your investment. Not only does a damp and musty basement smell stale, but the mold, mildew, and dampness triggers allergies. Left untreated the high humidity and dampness damages the exposed wood framing of your home, as well as anything stored in the basements. The fact is that high humidity shortens the life of furnaces and water heaters, which can be thousands of dollars in repairs.
As basement water control experts, we have a variety of Systems for resolving wet basement issues. We can prevent costly damage by assessing foundation cracks, evaluating perimeter drainage systems and much more.
There is no "one size fits all" System of resolving leaking or flooding basements. However, our most popular waterproofing system is specifically designed to fix the most common causes of basement leaks…AND it can save you a significant amount of money! Get in touch with us today to find out how our waterproofing and restoration services will keep your home comfortable and dry.
Our Water Damage Restoration and Waterproofing Services Include:
Mold Removal
In-Floor Drain Systems
No-digging-required Basement Waterproofing and Water Control
Sump Pumps, including battery backup sump pumps
This patented no digging required system saves you money because it's done in four easy steps!
STEP 1: Install our exclusive Super-Syphon (sump pump) system. The photo below shows it partnered with emergency battery back-up system. A small pipe just below or above the floor drains water from the water control "System" to the Super-Syphon
…Or the system collects water that would flood your basement and guides it to a drain.
---
STEP 2: Transformation Begins – Holes drilled in blocks releases water
---
STEP 3: Water control system is installed and your basement is protected!
---
STEP 4: No one is perfect, so we test the system before we leave to be sure you have a Superior Basement Water Control System! The water control "System" handles large volumes of water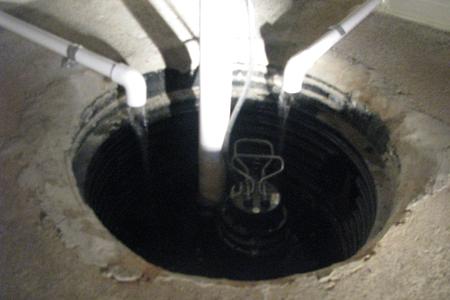 ---
25 Years of Experience & our 25-Year Warranty
While there are many types of warranties, Lifetime, 100-year, "Extended", and so on, the warranty is only as good as the people that back it. Additionally, it's not the term of the warranty, but the chances of using it. Warranty service calls for our most popular System is less than 1%; and our clients will attest to the speed and accuracy of our repairs. In the past 25 years, clients have told us the most important assurance of a solid guarantee is the prompt, reliable service after the installation – Superior!
Our 25-year Transferable Warranty is backed by that 25-year reputation.
Dedicated to Providing Value to Homeowners
We use the most effective, cost-efficient materials to give you the best value and performance. Superior Basement Water Control & Remodeling guarantees our solutions will solve your basement water leaks. That's why we can confidently boast about our "No Hassle, No Gimmicks, & No Pressure" reputation. When you invite Superior Basement Water Control & Remodeling to visit your home or business, you can expect a casual, low-pressure conversation about your project.
Superior Basement Water Control & Remodeling is confident that home and business owners will appreciate our approach. During a consultation with Superior Basement Water Control & Remodeling, our experts will gather background information and take the time to conduct a thorough inspection of your entire basement and the foundation around your home or business. Once that inspection is complete, we'll create a plan that outlines the services that will be the most beneficial for your home or business. Our experienced team listens to you and guides you in the direction that helps you solve your basement water issues in the most cost efficient manner. We've maintained a 100% success rate over the past 25 years; that's because our experienced team never suggests a solution until we have a thorough understanding of your basement's water problem.
We service the following areas
Syracuse
DeWitt
Liverpool
Cortland
Elmira, NY